Eric Sloof recently wrote about FabulaTech, which has a product called USB Over Network. This is a very nice software based client/server application that turns a PC with a USB device connected into a USB host – you can then install the client piece on your Virtual Machine to connect to the hosted USB connection.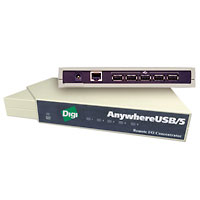 Digi also has a product called AnywhereUSB, it pretty much does the same thing but without the need of a host machine, you plug your USB device into the AnywhereUSB appliance (very small 5 port USB hub) and install the client piece on your Virtual Machine, the connection is made over a 10/100 ethernet line.  I've used a couple dozen of these for software that requires a USB License Key, never having a problem with any of them.
---
Created on January 24, 2009 by Rick Scherer
Posted under ESX 3.5 Tips, ESXi 3.5 Tips, Hyper-V.
This blog has 9,933 views.
Tags: anywhereusb, digi, fabulatech, network, usb, virtual machine